For over 20 years, we've been creating successful conferences and conventions.
At Center Stage AV, we have created amazing live events for clientele around the world. From Panama to Spain and North America, we have helped our customers deliver flawless live events every time. Although the hours may be long and work seems never-ending at times, there is nothing better than a satisfied customer and happy attendees.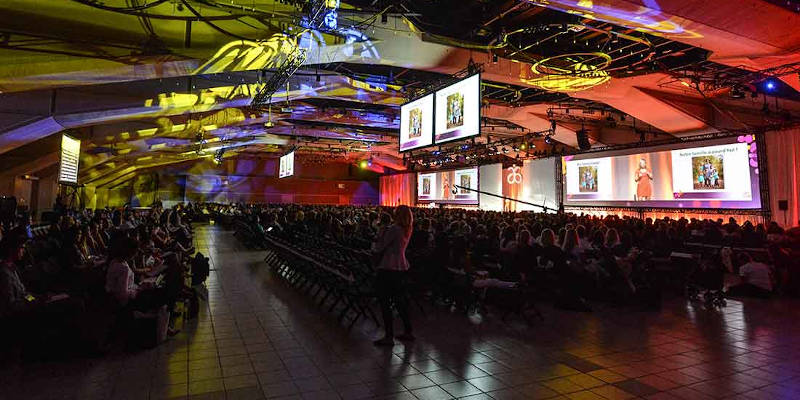 We can help you keep your audience informed and entertained the next time you host a conference or convention. We have set up and run the AV equipment at hundreds of conferences & conventions for organizations, companies, and businesses of all sizes throughout Mississauga, Ontario and beyond over the past two decades, and we're excited to make your next event a success.
Conferences & conventions typically have attendees ranging in the hundreds to the thousands. Our AV equipment capabilities can be adapted to any size event to effectively represent your brand and convey information in an engaging, exciting way. We will work with you in the days leading up to your conference or convention to ensure a flawless experience for your guests and prevent technology glitches that could reduce the success of your conference or convention.
Our experience designing, setting up, and working on AV setups at conferences & conventions over the years makes us the premier AV company for your next event. To learn more about our capabilities or how we can make your next conference or convention a complete success, reach out to us today.
---
At Center Stage AV, we assist with conferences & conventions throughout Canada, including Toronto, Mississauga, Etobicoke, Scarborough, Markham, North York, Ottawa, and the rest of Ontario, as well as Calgary and Edmonton, Alberta; Vancouver, British Columbia; Montreal and Quebec City, Quebec; and Halifax, Nova Scotia. We also serve the United States, including New York, New York; Los Angeles, San Diego, and San Francisco, California; Atlanta, Georgia; Dallas, Houston, and Austin, Texas; Chicago, Illinois; Boston, Massachusetts; Washington, D.C; Seattle, Washington; Las Vegas, Nevada; Miami and Fort Lauderdale, Florida; and Denver, Colorado.