We mean business in the meeting business!
Chances are your audience no longer wants to sit through another PowerPoint presentation or standardized screen demonstration listening to a message they have heard before. If your audience is already tuned out before you take the stage, your message will be lost, and your meeting or seminar will be less effective.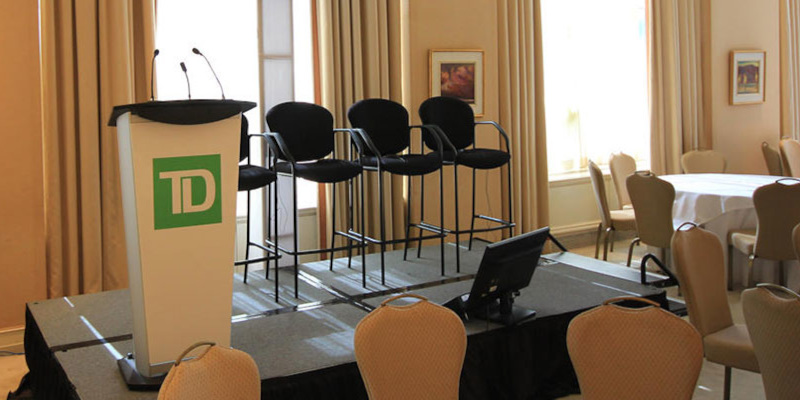 Connect with your audience and engage participants with our expertise at Center Stage AV. We can leverage your brand's strength to give your message impact, clarity, and meaning. Our technical team can make ordinary corporate meetings & seminars into extraordinary events that entertain and inspire.
Through lighting, set design, digital signage, projection mapping, social media walls, and other solutions, we make corporate meetings & seminars memorable and productive. But this process starts with you turning to us and telling us about your vision. Nothing is too out of the box or extreme for us to comprehend – we are in the business of making corporate meetings & events in Mississauga, Ontario exciting experiences for presenters and audience members alike.
We have over 20 years of experience turning standard corporate meetings & seminars into incredible events. Trust our experience and expertise to help you plan a meeting or seminar that leaves your audience inspired and excited about your message.
Change the way your clients, team members, and shareholders think about corporate meetings & seminars for the better. For more information about how we can help you plan that next event, contact us today.
---
At Center Stage AV, we assist with corporate meetings & seminars throughout Canada, including Toronto, Mississauga, Etobicoke, Scarborough, Markham, North York, Ottawa, and the rest of Ontario, as well as Calgary and Edmonton, Alberta; Vancouver, British Columbia; Montreal and Quebec City, Quebec; and Halifax, Nova Scotia. We also serve the United States, including New York, New York; Los Angeles, San Diego, and San Francisco, California; Atlanta, Georgia; Dallas, Houston, and Austin, Texas; Chicago, Illinois; Boston, Massachusetts; Washington, D.C; Seattle, Washington; Las Vegas, Nevada; Miami and Fort Lauderdale, Florida; and Denver, Colorado.