Make your next social event a success.
Are you hosting a social event or a gala in the near future? You know how fun these events can be, but they are also a lot of work to plan. Between finalizing the catering menu, reserving a space big enough, and coordinating logistics, you may feel lost trying to figure the light and sound configuration needed for your upcoming event.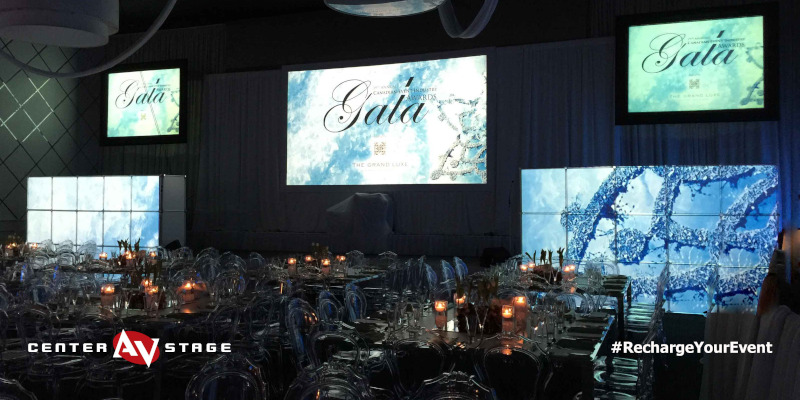 This is where we come in a Center Stage AV. We have worked on many galas & social events over the years at a wide variety of convention centres, hotel ballrooms, and other venues. We deliver stress-free live events for the corporate, entertainment, and social markets, and we can impress your guests with creative multimedia, LED stage lighting, dazzling moving lights, great sounding audio, and visually stunning content. Whether you're planning an event for 100 or 10,000, the lighting and sound will be a spectacular aspect.
As a boutique AV solutions provider, you tell us what you want, not the other way around. This is how we approach galas & social events through the Mississauga, Ontario area, and it always ends in success. Tell us what you picture for your event, and we will provide advice and solutions that make your vision come to life.
We love helping with galas & social events, and we are excited to start working on your next event. Contact us today to learn more about our options for lighting and sound and to get an estimate for your upcoming gathering.
---
At Center Stage AV, we assist with galas & social events throughout Canada, including Toronto, Mississauga, Etobicoke, Scarborough, Markham, North York, Ottawa, and the rest of Ontario, as well as Calgary and Edmonton, Alberta; Vancouver, British Columbia; Montreal and Quebec City, Quebec; and Halifax, Nova Scotia. We also serve the United States, including New York, New York; Los Angeles, San Diego, and San Francisco, California; Atlanta, Georgia; Dallas, Houston, and Austin, Texas; Chicago, Illinois; Boston, Massachusetts; Washington, D.C; Seattle, Washington; Las Vegas, Nevada; Miami and Fort Lauderdale, Florida; and Denver, Colorado.