Show off what your business offers at your next trade show.
Trade shows let your business network and connect with potential clients and suppliers. Every trade show you attend, you try to make your booth stand out to attract as many people over to your exhibit as possible. But if you are ready to take things up a notch, talk to us at Center Stage AV about how we can make your next tradeshow display even better.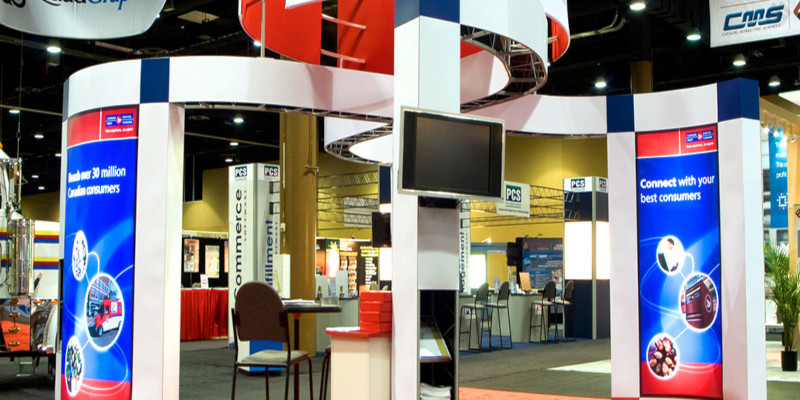 We know that you only get one chance to make a solid first impression and stand out from the rest at trade shows & exhibits. To help you make an impact, we offer LED monitors, digital signage, decorative lighting, interactive video walls, and other audiovisual elements that will help attract visitors to your booth or exhibit. Our team of skilled, dedicated professionals will provide innovative solutions to make sure your product, services, and brand take center stage.
Companies throughout the Mississauga, Ontario area prefer working with us because they tell us what they want, and we deliver. We have provided audiovisual support and solutions to tons of companies attending trade shows & exhibits over the years, and we continually succeed at helping our clients get their message across in a refreshing, exciting way. Bring more excitement to your next trade show by partnering with us.
Change the way your business does trade shows & exhibits by making us your preferred audiovisual solutions provider. Learn more about what we offer and how we can help before your next tradeshow by contacting us today.
---
At Center Stage AV, we assist with trade shows & exhibits throughout Canada, including Toronto, Mississauga, Etobicoke, Scarborough, Markham, North York, Ottawa, and the rest of Ontario, as well as Calgary and Edmonton, Alberta; Vancouver, British Columbia; Montreal and Quebec City, Quebec; and Halifax, Nova Scotia. We also serve the United States, including New York, New York; Los Angeles, San Diego, and San Francisco, California; Atlanta, Georgia; Dallas, Houston, and Austin, Texas; Chicago, Illinois; Boston, Massachusetts; Washington, D.C; Seattle, Washington; Las Vegas, Nevada; Miami and Fort Lauderdale, Florida; and Denver, Colorado.