Get great sound for your outdoor event.
The weather here is beautiful in the Mississauga, Ontario area in the spring, summer, and parts of the fall. If you are planning an outdoor event or a concert out in the open air, you need lighting and sound that will amplify the experience and ensure all your guests have a great time.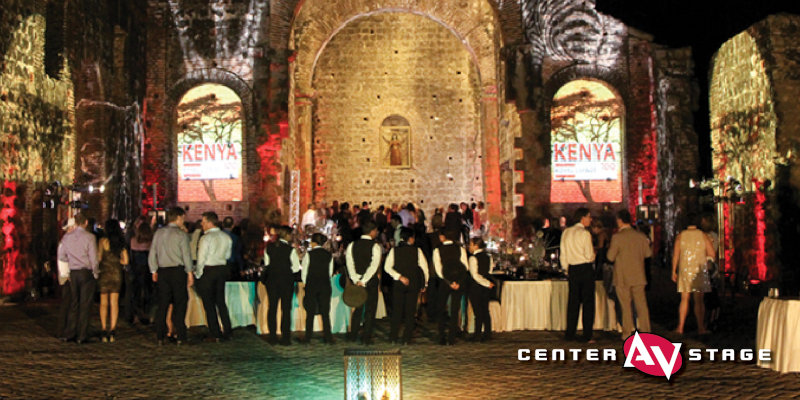 We apply the same methodical care we use for indoor events for outdoor events & concerts at Center Stage AV. From providing generators to portable stages and flawless logistics, we will work closely with you to take your vision from concept to reality. Our skilled technicians can help you put all the elements of your outdoor event together, including LED walls, set design and stage lighting, multimedia, banners, and more.
Our operation was born out of a deep desire to provide a better way to get a message across to an audience. For over 20 years, we have made corporate events, including outdoor events & concerts, better through quality audiovisual solutions. We have helped with thousands of corporate events throughout North America over the years, and we have worked with many large corporations to help them get their message across.
Your next outdoor event isn't complete without the audiovisual solutions and expertise we bring to the table. Learn more about how we can make your outdoor event or concert a success by reaching out to us today.
---
At Center Stage AV, we assist with outdoor events & concerts throughout Canada, including Toronto, Mississauga, Etobicoke, Scarborough, Markham, North York, Ottawa, and the rest of Ontario, as well as Calgary and Edmonton, Alberta; Vancouver, British Columbia; Montreal and Quebec City, Quebec; and Halifax, Nova Scotia. We also serve the United States, including New York, New York; Los Angeles, San Diego, and San Francisco, California; Atlanta, Georgia; Dallas, Houston, and Austin, Texas; Chicago, Illinois; Boston, Massachusetts; Washington, D.C; Seattle, Washington; Las Vegas, Nevada; Miami and Fort Lauderdale, Florida; and Denver, Colorado.